About Baxter Comfort Solutions
Baxter Comfort Solutions is one of the leading contractors serving Baxter, IA and the surrounding areas with HVAC, geothermal, and plumbing services. We are fully certified and licensed with the state of Iowa, and are SAVE-certified by Alliant Energy to test and document HVAC efficiency. We offer high quality repairs, great warranties, and the most energy-efficient installations available anywhere at any price.
But what truly separates us from other contractors is the quality of our installations and our customer service that continues to bring people back to us year after year. We don't just want your business for a single job—we want to make you a customer for every job you need in the future!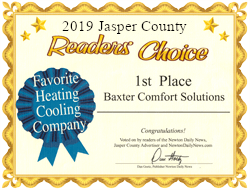 Family–Owned and Operated for Decades
We have a history as a company that stretches back to the early 1900s, when we were founded by Walt Hamilton as Baxter Oil. On January 1, 1928, Louis DeJong purchased the company, and to this day it is still owned and managed by members of the DeJong family. Current owner Bryan DeJong is part of the third generation of the family to operate the business, and he's committed to maintaining the company's long tradition of delivering excellence. Dylan DeJong, Bryan's son, has been working and training over the last few years to hopefully one day become the fourth generation to operate the business.
The many decades of family ownership have instilled in all of us a strong dedication to customer service and a knowledge of the integrity required to instill the highest trust in our customers. We have won numerous awards and are members of the Iowa Geothermal Association and the International Ground Source Heat Pump Association.
Experienced and Trained Employees
We understand that homeowners want to feel assured that the plumbers and HVAC technicians who come to their house are people with the best training and skill. We only employ certified journeymen plumbers and heating and cooling technicians with the proper licensing, and all of them are factory–trained in geothermal service and installation. Our team members are dedicated to continuing their education and keeping pace with new developments in technology. This way, they can always deliver customers the best possible service on each and every job.
We have the confidence in our team to guarantee their workmanship for a lifetime. If we do anything incorrectly, simply tell us and we'll return to correct it at no charge. It is our goal to make each customer a customer for life, and we'll strive to provide the superb service necessary.
Helping You Save by Going Green
Our motto is "Helping You Save by Going Green." We have a dedication to helping our customers lower their energy bills while also benefitting the environment. In addition to installing high–efficiency furnaces, heat pumps, ductless mini splits, air conditioners, and tankless and heat pump water heaters, we're experts with geothermal heating and cooling. We've performed hundreds of successful geothermal installations over the past 15 years. As the leading geothermal systems dealer and installer in a seven–state area and a ClimateMaster Dealer of the Year, we're the experts to count on to find the ideal way to equip your home with the right money–saving geothermal system.